The Complete Guide to Playing Jhandi Munda Online

Jhandi Munda is one of the lesser-known Indian online casino games compared to games like Andar Bahar and Teen Patti. However, it is still an entertaining game to play with quick gameplay and easy rules. If you're just curious about the game or want to find out the best online casinos in India that support it, you've come to the right place! In this complete guide, you can find everything you need to know about Jhandi Munda and how to play it online in India, both for free and for real money!
Top-rated Jhandi Munda casinos in India


While most online casinos in India today support popular games like Andar Bahar and Teen Patti, only a few support Jhandi Munda today. While you can play Jhandi Munda with real money on these sites, it is also possible to play for free too!
Out of those few, here are the best ones that offer the game:


CasinoFree SpinsBonusInfo

1

-

Total up to

₹70,000

Lots of classic Indian games like Teen Patti
Awesome welcome bonus
One of the best sportsbooks in the market

Jhandi Munda is a traditional board game that is very popular in India. The game is also known as "Langur Burja" in Nepal and as "Crown and Anchor" in other parts of the world. The history of the game goes back to the 18th century, originating in the state of Arunachal Pradesh. It was associated with the holy festivals in the country like Dashain, Dashami, and Tihar (all of which are also very prevalently celebrated in Nepal). The game was further popularized by the British Royal Navy; the sailors would refer to the game as "Crown and Anchor" which is the literal translation of Jhandi Munda from Hindi to English.
The game is played with a unique dice, and the gameplay is based on betting on the outcome of rolling six dice on a table.



Instead of using a standard die, Jhandi Munda is played with a custom six-faced die. While a standard die is numbered 1 to 6 for each side, dice used in Jhandi Munda have symbols that mark the different sides. The symbols used in Jhandi Munda dice are the following:
A flag (Jhandi)

A face (Munda)

Hearts

Diamonds

Clubs

Spades
So essentially, four sides of the die correspond to the standard card suites, while two of them are special symbols for the game (the flag and the face).



For each round of the game, six dice are rolled, and the players make a bet on the outcome of those rolls. It is very similar to the Chinese game of Sic Bo, which is based mainly on luck instead of strategy.
Instead of betting on the outcome of any specific roll, the player bets on only one symbol out of the possible six. The payout for the player is decided by how frequently the symbol shows face-up across all the six die rolls.



Here's a quick overview of the payout table used in Jhandi Munda. Let's suppose you bet on Hearts in a game; here's the payout you can expect from the game:


| Number of dice with Hearts as heads up | Payout |
| --- | --- |
| 0 | Lose initial bet |
| 1 | Initial bet back + 1x the bet amount |
| 2 | Initial bet back + 2x the bet amount |
| 3 | Initial bet back + 3x the bet amount |
| 4 | Initial bet back + 4x the bet amount |
| 5 | Initial bet back + 5x the bet amount |
| 6 | Initial bet back + 6x the bet amount |


Similarly, the same payouts will work if you chose any other symbol than "Hearts". As demonstrated, you will lose the initial bet only if none of the dices lands face-up on your chosen symbol. The profit for wins can range from 1x to 6x of the wager, which can be highly profitable if you're lucky! So for a ₹100 bet in Jhandi Munda, the returns can range from ₹200 to ₹700.


Tips and tricks for playing Jhandi Munda


Jhandi Munda is a fun and quick game that offers a relatively high RTP (return-to-player) of approximately 97.14%, which means the house edge is set low at 2.86%.


The best strategy for the game is very similar to the strategy for other chance-based games like Roulette. We recommend using the Martingale Betting System for these types of games and also set limits for losses.



There are a few variations of Jhandi Munda online, but most of them offer the same RTP. We have covered the variations further in detail below in this guide.
Is playing Jhandi Munda online legal in India?

There are several online legal online casinos in India that support Jhandi Munda, and playing it is entirely legal. However, we would recommend using the "play for free" option before getting started with real money since it allows you to get a feel for the game. You can find more information on our homepage about the legality of playing on online casinos in India. Still, most states in the country do not have any laws that restrict or prohibit online gambling as long as you play on a verified site that follows AML and FEMA laws of the land.

How to play Jhandi Munda online

Depending on your preference, you can play Jhandi Munda online against a computer with RNG-based games or a professional dealer with live casino versions of the game.
While most online casino sites in India only offer one variant of the game, some sites may offer multiple variants. For example, a game variant has a slightly different payout table where the players get a fixed return of 3.4x for getting more than one symbol right. However, we concluded that the RTP for both variants is the same, and it shouldn't make a difference in the long run.


Play Jhandi Munda for free

If you want to try playing Jhandi Munda for the first time on an online casino, we would suggest playing it with the "play for free" feature that's provided on many sites. By playing for free, you can quickly understand how the game works on your favourite online casino. We also recommend using your casino bonus on games like Jhandi Munda as they offer a high payout and allow you to complete the wagering requirement quickly.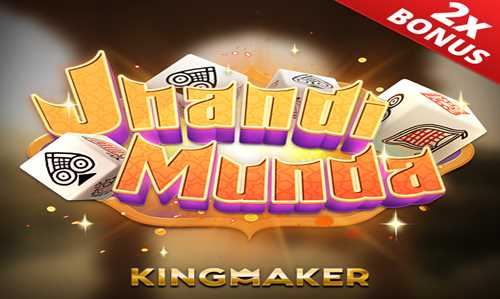 How to play Jhandi Munda on your smartphone

Jhandi Munda is a popular game to play on your smartphone because the game is swift and straightforward. Along with several Jhandi Munda apps available for smartphones, you can also play different variants of the game on online casinos that have dedicated mobile apps and sites.
Overall, there are plenty of options for playing Jhandi Munda on a smartphone, and we highly recommend it as a casual casino game that can be easily played on mobile.



While Jhandi Munda is not the most popular Indian-origin casino game, it is still one of the better-known games that originated in the sub-continent. It offers a high chance of a big payout and can be extremely fun to play, and it is a perfect game for recreational players.
With the new interest in the online casino industry in India, several international online casino sites with convenient payment methods like UPI have started including the game in their catalog to appeal more to Indian players.


Compare Jhandi Munda Sites