Total up to ₹30,000!
+ 10 Free Spins!
NetBet India is an international online casino operating in India and offers online casino games, live casino games, and poker to its players. The site is feature-rich and comes with several unique quirks that make the overall experience better.
We explore everything that's good and bad about NetBet India in this in-depth review and look at its bonuses, game selection, payment methods, and much more. In general, we were very impressed with the overall look and feel of the site and with the extensive game selection.
NetBet India is one of the best international online casinos operating in India today. Offering more than 1,500 games in a very well-balanced game library, they truly have something for everyone.

However, there are also certain drawbacks such as UPI not being supported as a payment method. We find this kind of strange because it is clear that NetBet India's focus is on localization, as seen from the marketing content and the support for Indian casino games, both live and RNG-based.
Additionally, the welcome bonus offered is decent but it is nowhere close to the highest we've seen like Europa Casino's welcome bonus.

Yet from an overall perspective, there's a lot of things to be excited about. Quirky features like the "Spin it" button and the excellent graphic design are some of the many examples. The fact that you can play poker tournaments in the same platform too can make it valuable to players who are interested in both casino games and poker.
If you're looking for an impressive online casino experience, NetBet India still would be highly recommended by us.
There are several aspects of NetBet that we appreciated. Here are some of the biggest features that we liked:
Modern interface


The most noticeable thing you'll notice when you visit NetBet is it's smooth and elegant user interface. We were particularly impressed with how the live casino section was presented with bold graphics and a high fidelity menu that looks more like a video game and less like a website.



Localized for Indian players
NetBet India is all-in when it comes to local players. It's actually impressive that instead of using the western system of millions and billions, they use lakhs and crores which are more familiar to people from India. There are also tons of Indian casino games like Andar Bahar and Teen Patti, along with live casino games in Hindi.


Dedicated Poker App


NetBet also comes with a dedicated poker app where you can play against other players and win real money. The app is pretty standard but being able to play poker with the same online casino profile can be handy, particularly for those who prefer having a single platform instead of using multiple ones.
There are also aspects of NetBet that can use some improvement. Here are the two key areas where we think it's possible to improve for this online casino:
Support for UPI Payments
It is actually kind of shocking to see that NetBet India does not support UPI as a payment method, considering that it's localized so well. UPI has been one of the driving forces behind the digital economy in India and most online casinos already use it. Adding UPI payments would make it much easier for players in India to deposit and withdraw funds.


Welcome Package's value


To be completely honest, the welcome package offered is not competitive with others in the market. The number of free spins offered is also very low compared to what other casinos like Playzee are offering (150 free spins).

Who is NetBet India Suitable for?
NetBet India is a power-packed online casino that offers a ton of features. We feel that it would be the perfect online casino for you if:
You do not require a very high welcome bonus.

You need a platform that also supports poker.

You prefer playing Indian-origin games or live casino games in Hindi.
Other than that, we would still recommend players to try it at the very least. The site does have a lot to offer but we feel the lack of UPI and the low welcome bonus can make it a bit undesirable for some players.
Frequently Asked Questions About NetBet India
Game Providers That NetBet India Works With
NetBet India works with every leading game studio worldwide. Some of the most popular names in their list are MicroGaming, Pragmatic Play, and Evolution Gaming. In total, there are over 30 game providers whose games are listed on this online casino.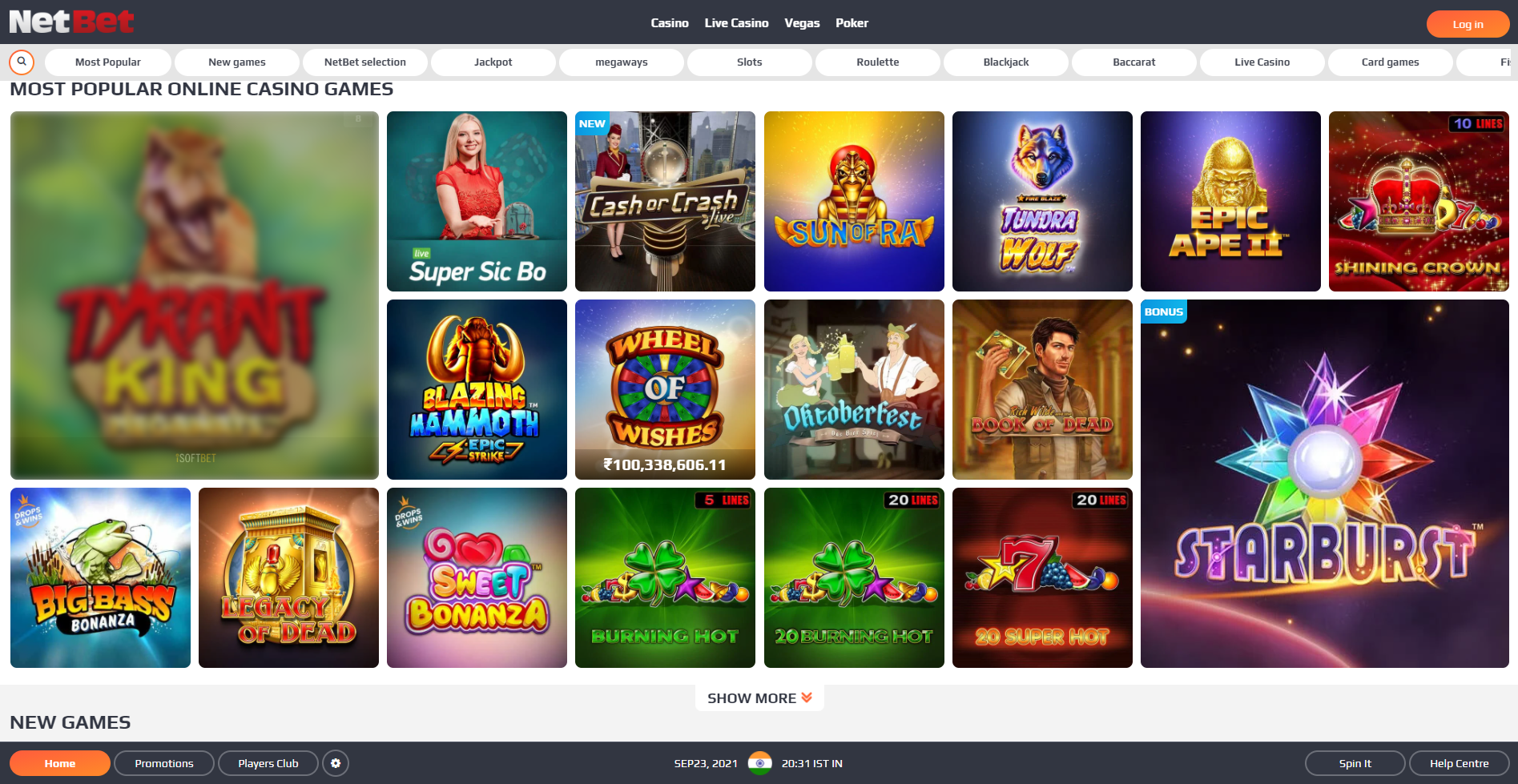 Overall, few can complain about the online casino at NetBet India. The game library is varied and balanced, and filled with old gems and new stars. The only negative thing we can think about for the game selection is the lack of RNG-based Roulette games. But speaking generally, the online casino experience at NetBet India is one of the better ones that we've come across.
Selection of Casino Games
The selection of casino games at NetBet is very comprehensive. There's more than 1,500 online casino games in total and even seasoned players could get lost in the game library. Speaking of which, the library is really well-organized too! Live casino games have their own sub-section, and so does Poker.
When it comes to navigation, it is quite easy to rummage through the huge library thanks to the neat categories and sub-categories. Yet, it is possible to discover new games since every category seems to be filled to the brim.
A neat feature we came across during our review was the "Spin It" button located near the bottom of the platform. When a player presses it, NetBet India randomly selects one game out of all the listed ones. It is very helpful if you're bored with your favorite games and want to experience something new.
With all that being said, let's take a look at how the game selection fares up when we look at the individual categories.
NetBet India's Game selection rating: 4,5/5,0

If you're a Blackjack fan, you wouldn't be disappointed with the options available at NetBet India. The game selection includes several RNG-based and live Blackjack games. Some of the uniquely-themed RNG-based games include Dr Fortuno Blackjack, Sonya Blackjack, and Lucky Blackjack.

For those who prefer live casino games, there's several options available too from world-class studios like Evolution Gaming. There's also an exclusive live Blackjack game available simply called live NetBet Blackjack.
When it comes to Roulette, NetBet India comes up a bit short in terms of RNG-based games even though it offers a few. However, there are several live casino versions of the game including Hindi Roulette by Evolution Gaming.
If you can get past the lack of RNG-based roulette games and prefer live casino versions, there's plenty to explore at NetBet India.
The slot selection at NetBet India is extravagant! There's more than a thousand online slots in the game library that indeed includes popular slots like Book of Dead and Sweet Bonanza but also new slots like Raptor and Alive!
To help players navigate through the massive selection, there's a useful navigation menu in the slots section that further breaks down the slots into thematic categories like "Animals", "Diamonds", "Egypt" as well as functional ones like "New slots" and "Popular slots". Overall, we were heavily impressed by the slot selection in general.

Lastly, the library also includes slots based on superhero characters like Batman, Superman, and the Justice League which can be a fun experience for fans.
Jackpot games at NetBet India
Just like slots, there's no shortage of Jackpot Games like Mega Moolah at NetBet India. Jackpot Games have their own category in the library. However, one minor thing we noticed is that NetBet India does not display the running jackpot amount for these games as other casinos like LeoVegas does.
The Live Casino section is definitely a highlight of our experience at NetBet India. To access live casino games, simply click on the Live Casino option in the top menu. Once you enter the live casino section, you can find an excellent user interface and categories like Live roulette, Blackjack, Card, and More Games.
All the categories have plenty of games listed under them. What's really impressive is that all live casino games have a Hindi version. In these games, the dealer communicates with players in Hindi.
Along with the classic casino games, the live casino section also includes live Andar Bahar and live Teen Patti. There's also gameshow type live games available like Crazy Time, Football Studio, and Cash or Crash.

All the games work perfectly and offer a seamless playing experience. If you're a fan of live casino games, NetBet's line-up should definitely impress you.
Sports Betting at NetBet India
At the moment, NetBet does not operate its sportsbook in India. It only offers online casino games, live casino games, and poker. However, NetBet India is a pretty new online casino so it could integrate a sportsbook in the future as many other platforms have done.
NetBet India's app and mobile experience
At the moment of writing this review, NetBet India does not offer an app for its casino games. However, the website can be accessed by a mobile browser and still work flawlessly.
There is an app available for those who want to play Poker. The app is available for both Android and Windows which means you can play on your laptop or mobile. The poker app looks and works like a general poker app. In terms of games, there's plenty of tables with varying stakes so any type of poker player will feel right at home with this app.
App and mobile experience rating: 4,0/5,0


NetBet India's Payment Options and Processes
NetBet India currently accepts debit/credit cards and third-party e-wallets like Skrill and Neteller. Unfortunately, UPI payments are not supported at the moment. There are no deposit/withdrawal charges but the platform you're using to transact might add a commission. In general, transfer times depend on the payment method but usually can take from a few seconds to a business day or two.


Payment options and processes rating for NetBet India: 4,0/5,0


Customer service at NetBet India
Customer service is definitely a priority at NetBet India. There are two channels to reach out to customer support - via messages and live chat. Both the channels are inbuilt into the website and can be accessed from any page. The live chat's working hours are 09:00 to 23:00 UK time.

Based on our experience, the customer service was timely and effective.
NetBet India's customer support rating: 4,0/5,0
Overall, NetBet is definitely a powerful contender when it comes to the best online casino in India. There's a lot of things that add value such as the wonderful design, the "spin it" button, and an ever-growing game library. However, the lack of UPI payments could be a factor when it comes to adoption over the long-time for this online casino. Yet, we would still recommend trying it out if UPI payments are not a necessary requirement for you and you want to experience one of the best international casino experiences available in the market today!
Rating for NetBet India: 4,0/5,0