Megapari is an online casino that comes with an integrated sportsbook. While at first glance, players might confuse it just as a sports-betting platform but there are also plenty of online casino games available to keep even the most avid casino lover entertained.
So how does Megapari compare to its competitors in India? We cover that in-depth and go through the most important aspects of the gaming platform such as the welcome bonus, game selection, payment methods, and more! Check out Megapari now or keep reading to learn more about this online casino.
Megapari was established in 2019 and started off as a sports betting platform with an eGaming license from Curacao. Today it is one of the best online destinations for not only betting on your favorite sports but also for playing some of the top-rated online casino games. While the betting platform has been robust since its inception, the online casino addition has only made the overall platform stronger.
The online casino offers both RNG-based games and live casino games for those who prefer to be a bit more immersed during gameplay. The game selection offers all popular categories of games such as card games, online slots, and gameshow-type games. Without going further into the game selection (which we do in the sections below), we can easily state that we were highly impressed by what Megapari offered.
We cover the online casino more in-detail below!
What we like about Megapari:
There are many things we liked about Megapari such as its easy payment methods, great game selection, and simple interface. However, if we had to pick the best things we liked about Megapari, it would be the following:
Integrated platform for sports betting and online casino games
One of the biggest advantages of playing at Megapari is that you can easily access the platform's world-class sportsbook. For players who like to dabble in the occasional betting, Megapari offers the perfect package.


Support for Indian Languages
Although Megapari comes from Eastern Europe, it has a global presence and operates under a license to offer its services worldwide. Given the context, it is really great to see the platform support local languages such as Hindi, as this makes the platform a lot more accessible to more users. 
How we think Megapari can improve:
Even though Megapari is an impressive online gaming site, there are some things that we would like to see Megapari change in the future. The most important area where we think Megapari can improve is:

Supporting VISA and MasterCard Cards


Although Megapari supports almost all popular types of payment methods used in India such as UPI, PayTM, Google Pay, for some reason it does not support credit/debit cards on the MasterCard or VISA networks. Fortunately, the domestic RuPay network is supported for depositing and withdrawing.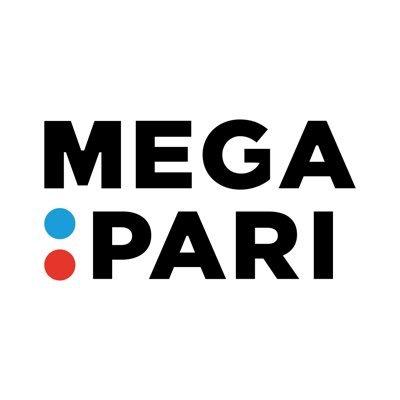 Who is Megapari Suitable for?
Megapari offers a great experience with both its online casino and the sportsbook. We feel most players would appreciate the service offered by the website. However, we think you would like Megapari, particularly if:
You are interested in sports betting.
You prefer using UPI for deposits and withdrawals.
You are okay with a relatively narrow game selection.
Additionally, the welcome bonus offered at Megapari's online casino should hopefully be appreciated by all kinds of players as well. To learn more about the welcome bonus and claim it, click on the button below!
Frequently Asked Questions About Megapari
Game Providers That Megapari Works With
Some of the biggest game providers worldwide work with Megapari such as:
MicroGaming

NetEnt

Pragmatic Play

Evolution Gaming

RedTiger

and many others!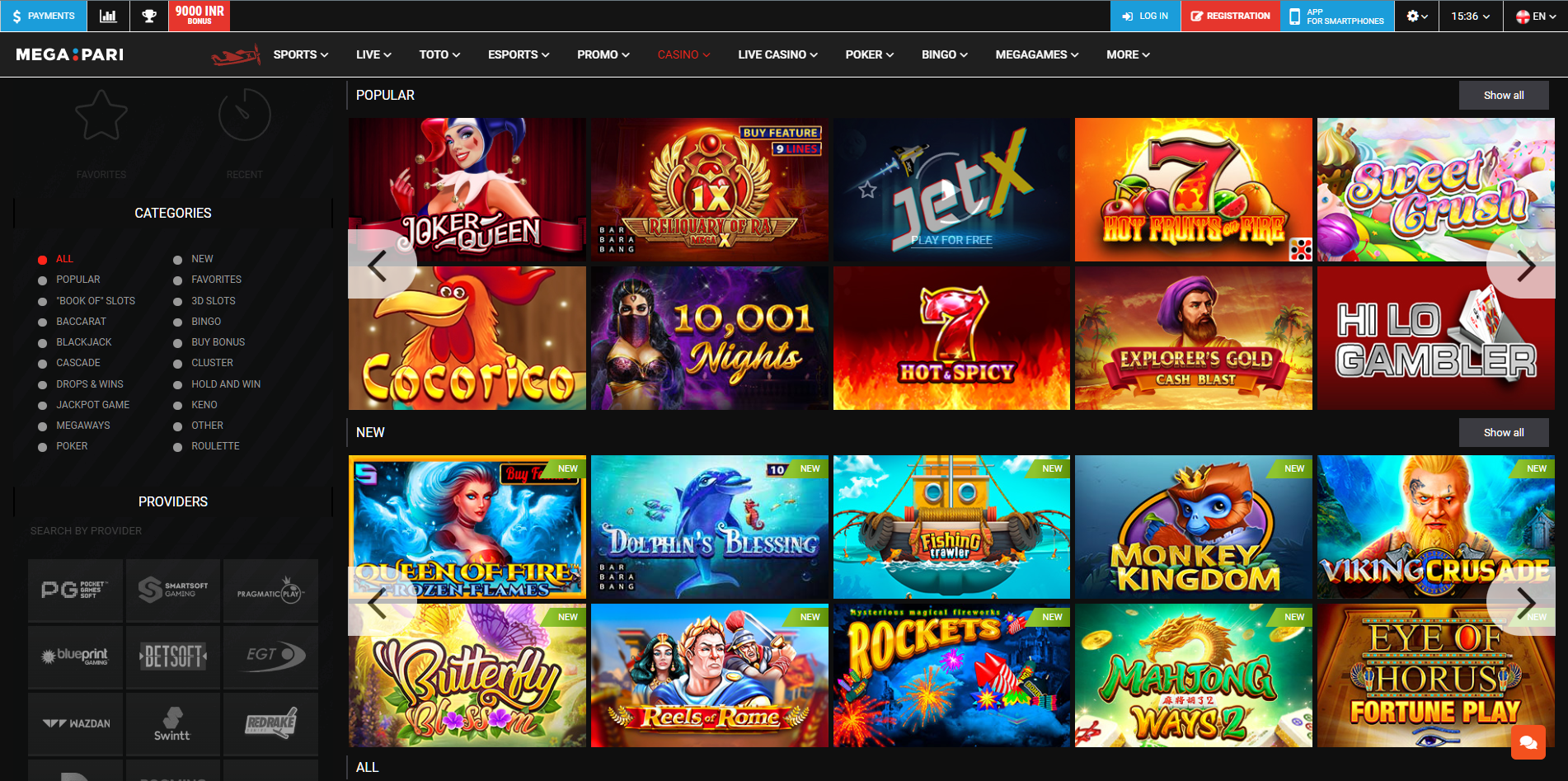 Megapari's online casino offers a lot to all types of players. The easiest way to access the online casino at Megapari is by clicking "Casino" or "Live Casino" on the top menu. In terms of game selection and variety, we found the collection to be quite versatile and interesting. The games are then further classified into different categories in sections such as Blackjack, Roulette, Slots, and Bingo. Overall, we found the range of options and gameplay experience at Megapari to be highly satisfactory and equivalent to some of the best online casinos in India.
All new players on Megapari can avail of a 100% welcome bonus on their first deposit up to ₹9,000. The welcome bonus essentially allows you to play with double the value of the first deposit.
Here are some more details on Megapari's welcome bonus:
The minimum deposit to enable the welcome bonus is ₹90.

A player can only claim the bonus once and should have a verified phone number on their profile to become eligible for the bonus.
The bonus becomes invalid if you deposit using cryptocurrency as a payment method.
The bonus is not withdraw-able until you cross the wagering requirement of the bonus.
The bonus should be used within 30 days from registration.
Wager requirement
The wagering requirement for the deposit bonus is set at 5x.
Megapari's Welcome Bonus Rating: 4,5/5,0
Selection of Casino Games
When it comes to its game selection, Megapari definitely packs a pretty strong punch. The game library is divided into two major categories - casino games and live casino games. Further, the games are classified into different categories within the major ones such as Blackjack, Roulette, and Slots.
The biggest part of Megapari's casino game selection is its online slots selection. You can find almost every genre and type of online slots at Megapari in its category. Overall, we were pretty happy with the variety and range of games on offer at Megapari and think all players should have something to enjoy at this online casino.
Megapari's Game selection rating: 4,5/5,0
If you're looking to play Blackjack at Megapari, you will get plenty of chances! The online casino offers a huge number of Blackjack games, both live casino versions and RNG-based static versions. Players can find the RNG-based games in the Blackjack category in the online casino section and they can find the live versions in the live casino section of the site.
Some of the most popular Blackjack variants available on Megapari include Classic Blackjack, Blackjack First Person, and Double Exposure Blackjack.
Roulette is one of the most iconic casino games ever created. It has been a cornerstone for both traditional physical casinos and online casinos ever since its inception. Naturally, Megapari's online casino offers several versions of Roulette. Players can find various game types available such as European Roulette and American Roulette among the RNG-based games while the live casino versions offer an extra level of immersion if you're up for it. The live casino Roulette games are created by leading game studios like Evolution which ensures that gameplay quality is always high-quality.
Due to its partnership with some of the leading game studios worldwide, Megapari boasts of a game selection that is very rich when it comes to online slots. Featuring all popular styles, genres, and game features including jackpot slots, there is a good time for everyone. Some of the most-played online slots at Megapari are the Book of Dead, Sweet Bonanza, and Joker Queen.
To find the online slots on the site, a player needs to navigate to the casino section and then select "3D slots" in the category menu. Once the option is selected, the player should be able to scroll through a seemingly endless grid of high-quality online slots and massive variety between them.
Jackpot games at Megapari
Megapari's online casino also offers tons of jackpot games that take your winnings to the next level. These online slots offer both combined jackpots and individual jackpots for huge sums. Some of the most popular jackpot games at Megapari are: 10,001 Nights, Might of Zeus, and Golden Treasure.
You can find all the jackpot games by selecting the category in the game library's menu on the right side of the screen. Overall, we were satisfied with the range of jackpot games available at Megapari.
Live casino games constitute a major part of Megapari's game library. Players can find them easily by clicking on the "Live Casino" tab on the main navigation bar. In terms of game choices, there's no stone that has been left unturned. Some of the live casino games available include Live Blackjack, Live Roulette, Live Baccarat, and gameshow-type live games like Crazy Time.
To make things interesting, you can find several variants for each of these games, and all of them are created by leading game studios worldwide which means quality would never be an issue. During our review experience, we were really happy with the quality of live casino games and the overall experience offered at Megapari.
Megapari's Live Casino Rating: 4.5/5
While Megapari's sportsbook is the major draw for many, its online casino is pretty decent too. It comes with a huge game library covering both live and RNG-based games of all types, has a simple clean design making it easy to use, and new users get a reasonable welcome bonus too. However, it should be noted that if you're a fan of flagrant designs, you could be a bit disappointed by what Megapari has to offer. But if you're someone who enjoys sports betting occasionally and loves online casinos, Megapari could be a great fit for you. We would highly recommend it!
Megapari's Overall Online Casino Rating: 4,5/5,0
Sports Betting at Megapari
Megapari's sportsbook is one of its biggest highlights. The world-class sportsbook allows you to bet on almost all major sports events worldwide and comes with plenty of markets to keep you interested. Naturally, some of the biggest sports like cricket and football are covered in-depth but you might be surprised with some of the niche events and markets available on the platform. The betting experience is simple to understand and the bet slip is very well-designed. Before we move on to discussing the details of Megapari's sports betting experience, let's take a quick look at the sportsbook and what it has to offer.
Megapari's sportsbook is designed to work great for both new players as well as experts. The homepage provides easy access to all the major events as well as contextual events in which your national team is participating. Placing a bet is also super easy thanks to the bet slip found on the right side of the screen, and comes with several options to optimize your wager. It is also possible to bet on live events with several markets and events available under the "LIVE" tab.

Players can also quickly access all the major events from the left side of the screen with the game selector. We generally found quite a huge number of markets for all major sports. If you're not interested in sports but are just looking for some recreational wagering, Megapari also supports markets on weather and real-life events like politics. Several niche sports like Darts and Sky Jumping are also adequately covered. Overall, the sportsbook feels very complete and in-depth while being accessible at the same time.
Megapari offers a straightforward but in-depth betting experience that rivals the likes of giants like Bet365. In terms of variety, all major sports and several niche sports are available with plenty of markets in each. The bet slip offers a smooth and easy way to place wagers, and placing multi-bets is also very easy at Megapari. We were very pleased with the range of markets and sports it offered overall. 

We would recommend new players take a deep look at the range of events offered once they have signed up to see all that Megapari has to offer!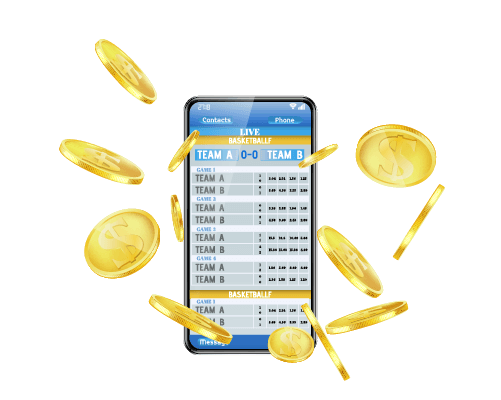 Megapari's sportsbook offers a ton of interesting features, making it accessible to both beginners and experts. Here's a quick rundown of what we liked the most about the sportsbook:

Excellent coverage of worldwide events
One of the most impressive things about the sportsbook at Megapari is the sheer massive number of events available on it. You can bet on anything from UFC to F1. For popular sports like Cricket, the betting experience is even better as the sportsbook offers almost every possible market you can imagine. 


Simple but powerful bet slip
The bet slip at Megapari is designed to function quickly and easily. It can be found in the top right corner of the website when you select a wager. Adding multiple bets is also made very easy which helps in creating accumulators better with easy calculations for total odds.


Offers and live betting
The sportsbook's live betting experience is also spectacular. The biggest live matches currently ongoing are displayed on the homepage on the left side allowing players to get in the action quickly. The live markets update the odds constantly allowing punters to employ different strategies and making the whole experience that much more thrilling. Additionally, Megapari also has several offers on games running every day which allows player to win even more!
Summary of Megapari's Sportsbook and Betting Experience
Overall, Megapari comes with a great sportsbook and offers an excellent betting experience. There's no shortage of events to bet on, plenty of markets including live markets, and a smooth user-interface that is simple yet elegant. Overall, we were really satisfied with what Megapari has to offer in terms of sports betting on its platform.

Megapari's Sportsbook Rating: 4.5/5
Megapari's app and mobile experience
Megapari's website works great on mobile browsers but if you're on Android and want to take it a step further, you can use Megapari's official Android app to keep playing on the go. However, do note that you'll need to download the .apk file from Megapari's website and then install it on your phone. The official app is not available on Google's Playstore and there are plenty of fraud apps so we would advice users to be careful.
App and mobile experience rating: 4,5/5,0


Megapari's Payment Options and Processes
Megapari offers the following payment methods in India: Cards, e-Wallets, UPI, and cryptocurrency. While the addition of UPI and cryptocurrencies like Bitcoin offers more flexibility to players, VISA and MasterCard cards are not supported for some reason. However, since the majority of transactions in India use UPI, the lack of VISA and MasterCard support shouldn't be too much of a concern. The minimum deposit amount at Megapari is ₹300.
Payment options and processes at Megapari: 4,5/5,0

Customer service at Megapari
Megapari currently offers customer support via email and live chat. The email address to reach out the support team at Megapari is support@megapari.com. Users can access the live chat anytime from the website by clicking the button on the bottom left of the webpage.
Megapari's customer support rating: 3,5/5,0
Overall Megapari is an excellent online casino and sportsbook and one that we would definitely recommend. If you're looking for a great well-rounded experience with a great online casino and a world-class sportsbook, Megapari is definitely a great option for you. Although we feel that when compared between the sportsbook and the online casino, Megapari's sportsbook is the better platform out of the two.
Rating for Megapari: 4,5/5,0